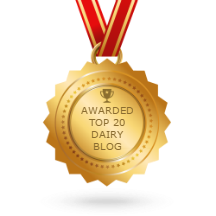 Milk Maid Marian has just been named among the world's top 20 dairy blogs and I'm grateful to the Feedspot people for letting me use the little medal picture. But, honestly, it's what you think that's important.
After last year's high dairy drama, I'm wondering where to take Milk Maid Marian from here but, really, it's not about me.
Tell me what will make reading the next post worthwhile.